As a thank you to the brave heroes that have risked their lives as payment for our freedom, sign up for the Wounded Warrior Run, where 25% of the ticket proceeds will go to Wounded Warrior Project! It's a virtual run available as a Full Marathon which is 26.2 miles. You choose when you run and how far you run. You can run more on one day and less on another or complete your run all at one time. It's completely up to you. All participants that complete the event within the 15 day time period will receive a unique medal along with the bonus of knowing that are helping a hero!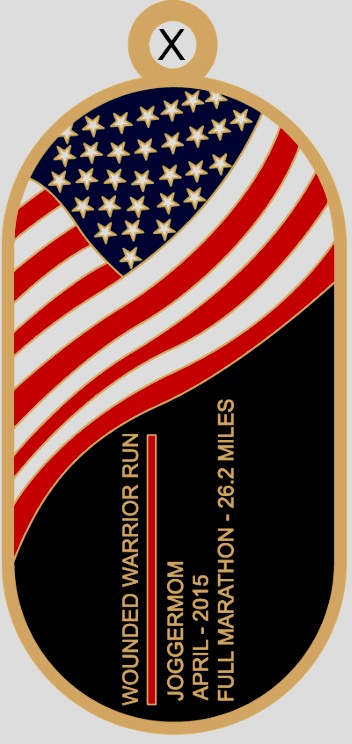 Details:
Run: Full Marathon
Date: April 16th – 30th, 2015
Why: Because we live in the land of the free because of the brave!
25% of proceeds goes to Wounded Warrior Project
Newsletters about popular running topics
Discounts from Joggermom.com
Great place to hang out with likeminded people
Real medals (A 2.5 inch medal with an original design)
Join us on Facebook for the most up to date info
 *Please note only finishers will receive a medal
About the charity:
Wounded Warrior Project (WWP) is a charity and veterans service organization that offers a variety of programs, service and events for wounded veterans of the military actions following the events of September 11, 2001. WWP's vision is to "foster the most successful, well-adjusted generation of wounded service members in our nation's history" as it works to raise awareness and enlist the public's aid for the needs of severely injured servicemembers, help severely injured service members aid and assist each other and provide unique, direct programs and services to meet their needs.
1. Sign up here at our Eventbrite page and make sure you receive a confirmation email within an hour otherwise please contact us at info@joggermommarathon.com.
2. Once the marathon starts, just enter your miles into our web app located on the right hand side of our marathon blog (marathon.joggermom.com), or download our mobile app from iTunes or Google Play (search for joggermom).
3. You can use the app to see your miles completed and see how you rank against other runners.
4. Print out your bib here and take a picture to post on our Facebook page.
5. Once you complete your miles, we will send your medal to the address you registered on the web app. If you have changed addresses, just update your profile on the web app.